NEWS AND NOTES 2016
WEB CONTENT ADDITIONS FOR OCTOBER
Added 32 color slides to the Oscar Hendricksen album.
260 NEW PHOTOS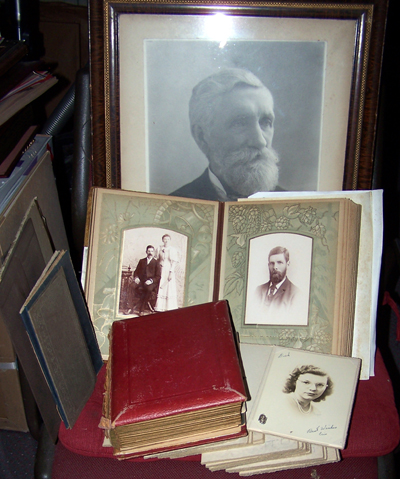 Two hundred and sixty photos have been added in a new online album. The items were loaned to the Historical Association by the heirs of Dick and Joan Fowler - The Fowler Estate Album. The collection included two framed photos, two old albums, photos of classmates of the Pembroke Academy class of 1946, and numerous loose photos. Among the collection were about a dozen tintypes. The first of the albums contains primarily photos of members of the Tripp and Fowler families; the second includes some family photos as well as members of the Grange and other town residents. As with many old albums, many of the individuals remain unidentified. The items have been scanned and added to the electronic archives and placed online. The Epsom Historical Association cannot thank enough the family of Dick and Joan, both whom were strong supporters of the Historical Association. [view album]

NH State Library adds Epsom History Books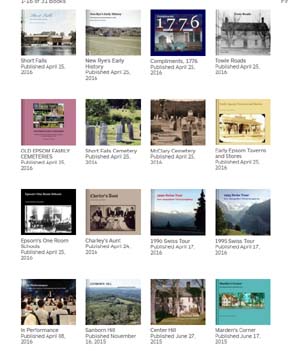 The New Hampshire State Library has recently ordered a complete set of the Historical Association's books on town history. The list includes books on the one rooms schools, taverns and stores, the meetinghouse, McClary Cemetery, and East Street. Also included are the 12 books on the various sections of the town - Center Hill, Marden's corner, Short Falls, Fowler District, Sanborn Hill, North Road, New Orchard Road, Mountain District, Slab City, New Rye, Gossville and Goboro Road, and finally, Black Hall Road. The collection also includes 5 cemetery books - Gossville, Short Falls, McClary, New Rye and a book on the old town family cemeteries. The State Library also purchased the book 'Towle Roads', the 'Kitchen Memories' cook book, and 'Compliments, 1776' which documents the local staging of the musical "1776."
The collection was first purchased and is available at the Epsom Library.

WEB CONTENT ADDITIONS FOR MARCH
Added Congregational Church Records - Meetings 1761-1774 of Rev. Tucke
NEW FEBRUARY WEB CONTENT
Added images and transcription of the Epsom Town Charter 1727
Added Congregational Church death records 1815-1824, 1831
Updated and extended Capt. John Ham genealogy & Dea. Nathan Marden genealogy, Col Samuel Osgood
Updated locations in genealogy database to make them uniform & uploaded to Rootsweb world connect. 2/13/2016
Added Will of Reuben Sanborn, 1794
Epsom Early Settlers Genealogy database broke 50,000 individuals 2/12/2016
Added genealogy to Sanborn and Libbey lines. (Abigail, dau Lt Reuben Sanborn)
Transcribed wills of Col. Samuel Osgood, his son Abraham and his son David.
Updated genealogy of family of Moses Osgood, dau. Deborah and Samuel Seavey
Updated genealogy of familes of Joseph and Joseph Seavey Jr.
Centennial Address on the Baptist Church 1961. Dr. Emmet Russell, had retired and returned to Epsom and remained a member of the church. His article on the history of the building was part of the centennial celebration.
Two love letters from 1821 - James Babb of Epsom to Susan Mead of Northwood, his eventual wife. Transcriptions and original images.
NEW YEAR, NEW CONTENT
The year 2015 saw the completion of a series of twelve photo books highlighting the history of various parts of the town of Epsom. The historical content of the books are now available online so they become part of the search on Epsomhistory.com. The main difference of the information online and the books is that the online versions do not include all the photos offered in the print versions. The online historical information is in two formats, standard webpage and pdf files and can be found on the history pages, the titles include:

Also added:
Epsom's Early Taverns and stores pdf 91 pages