March 2002 meeting.........
THE SEIZURE OF HIS MAJESTY'S FORT WILLIAM AND MARY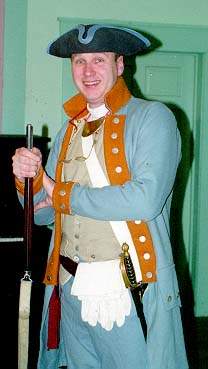 When you read the history books you get the general impression that this country's giant step toward revolution was at Lexington and Concord, and that perhaps prior to that time Paul Revere did nothing but make silver items (except for the one time he rode his horse to spread the alarm that the British were coming). You might also have the impression that New Hampshire men's first venture into revolution was at Bunker Hill. Well my friends, you don't know the whole story! Well the story was told, and included Epsom's Andrew McClary.

Our speaker was Thomas F. Kehr, President of the New Hampshire Society, Sons of the American Revolution, who is an attorney in Concord, New Hampshire, where he resides with his wife and four young children. He was a founding partner of Kehr and Urban, LLP, a firm dealing with Federal and State civil litigation arising across New England, and currently operates the Office of Thomas F. Kehr, PLLC, Attorney at Law, in Concord (Penacook), New Hampshire. His essay on the seizure of the Fort William and Mary recently appeared in the SAR national magazine.If you missed this most informative and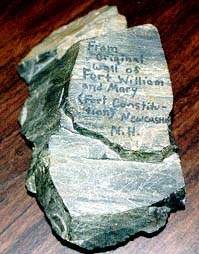 unique look at some important and unknown New Hampshire History, click on the words FORT WILLIAM AND MARY above to see his essay on this topic. and a piece of the old fort.

Mr. Kehr also brought some artifacts including a cannon ball