No. E-15F
DOW-WIGGIN, Deerfield, NH (complete)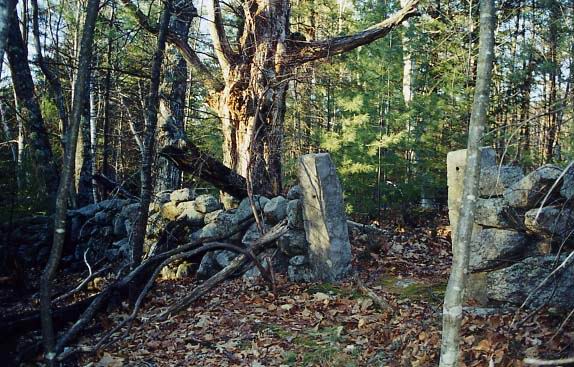 DOW
James Dow died August 18, 1847, ae 52
Betsey (Robinson) wife of James Dow died May 28, 1861 ae 63
Sally, dau. of James and Betsey Dow died Feb. 2, 1823, ae 13 mos.
She has gone to Heaven before us
But she smiles and waves her hand
Pointing to the glories o'er us
In that happy spirit land.
Jacob Dow died Jan. 2, 1835, aged 75
Charlotte (Langley) his wife died June 29, 1842 age 68
Esther Dow died Mar 29, 1886, aged 88 yrs. 8 ms (dau. of Jacob & Charlotte)
Polly, dau. of Jacob and Charlotte Dow, died Oct. 25, 1826, age 15 yrs 3 ms.
Josiah, son of Jacob and Charlotte Dow, died Oct. 4, 1803, aged 1 yr, 5 ms., 17 ds.
(Polly and Josiah also have older slate stones propped up against the wall which were later replaced by later marble stones.)
LAMPREY
Charles Lamprey died at Georgetown D.C> Feb. 27, 1863, aged 32
Farewell dear husband short farewell
For Jesus calls thee home
Nor will I call thee back to earth
Though I am left alone.
Ida May, dau. of Charles and Mary J. (Dow) died Oct. 2, 1863, 7 yrs
WIGGIN
John Wiggin died June 25, 1874, ae. 69
Ester (Langley) wife of John Wiggin died July 1, 1889, ae. 81
(stoned propped against wall)
Cemetery located off Dow Road, Epsom/Deerfield Line. Few stones standing and many misplaced.