No. 44
Old Wallace Burying Ground, Old Mountain Road, New Rye, south corner of old Cass field.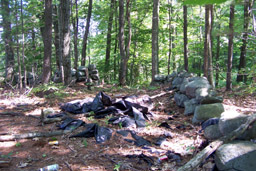 click for larger image
Wallace
No burials showing, likely burying ground for the family of Ebenezer Wallace (1744-1802) and his first wife, Sarah (McGaffey) (abt. 1759 - abt. 1789) and some of their children.
Son John Wallace administered his father's estate, and he died 1806 and his buried in Deerfield in a family plot of his wife, Anna Goodhue, as the family homestead had been sold.