No. 41
Tarlton Cemetery, Located on the Tarleton Road below and behind the remains of a large foundation, and along a stone wall.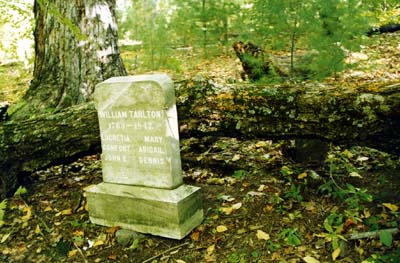 click for larger image
Tarlton
William Tarlton 1763-1847. (d. Feb. 7 according to Dolbeer Book)
Lucretia (Amazeen, wife of William)
Comfort (Comfort Wallace, wife of son William Tarlton)
(children of William and Comfort:)
John E. (d May 05, 1849)
Mary (d. Sept. 18, 1826)
Abigail (d. April 12, 1840)
Dennis (d. July 25, 1837)
The stone is a newer one circa 1920 which replaces many unmarked fieldstones. The widow of Wm. Tarlton died Sept. 16, 1849 at age 82.