No. 6
Poor Farm Cemetery, on Black Hall Road, near Cutter's Barn on knoll.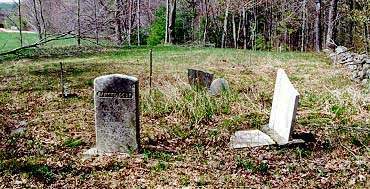 click for larger image
Goss
Samuel Goss DIED Aug. 5, 1834 in the 44th year of his age. [older stone]
Susan G. (Towle), His Wife, Died Dec. 18, 1873 ae 78
Rowell
William Harris, Son of Asa T. and Abigail S. (Moulton) Rowell, died March 27, 1842 ae 5 y'rs & 16 days
Towle/Toowle
Mr. Joseph Towle departed this life Aug. 5th 1828 in his 62 year
Mrs. Sarah (Wallace) Toowle (wife of Joseph Towle) Died July 10, 1846 ae 71
Yeaton
Mr. E. Haseltine Yeaton Died June 28, 1846 ae 32.