No. 33
Cate Cemetery, off New Orchard Road.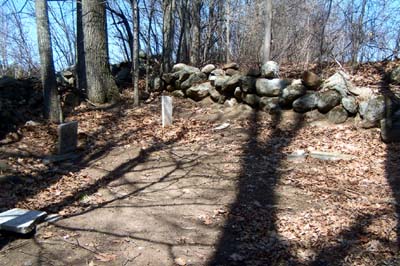 click for larger image
Cate
DEA. Samuel Cate, DIED July 19, 1862. AE. 78. (stone in 2 pieces)
Abigail (Prescott), wife of Dea. Samuel, died July 20, 1847 AE. 57. (stone nearly illegible,broken)
John W., son of John & Jane M. Cate, died Oct. 25, 1815 AE. 9 mo
Annie Lizzie, Dau. of John S. and Jane M.(Moses) Cate, died Oct. 28, 1865 AE. 9 yrs (off pedestal)
Footstone: A.C.