GRAND ARMY OF THE REPUBLIC - GOSSVILLE (Epsom) New Hampshire
Organized March 14, 1883. GAR Hall dedicated Sept. 20, 1883

History of soldiers from forms used to fill in soldier pages in the Post's official History.

Reunion of Civil War Veterans circa 1890. GAR Hall is tallest building in background.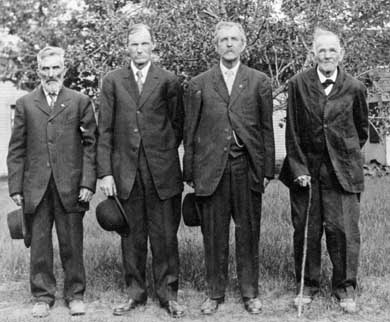 Photo at right which hangs in the Epsom Public Library. Memorial Day, 1911, Civil War Veterans, from left to right, Henry C. Lovejoy, Calvin J. Brown (John Calvin Brown), James W. Marden and Benjamin Bickford.
From Hurd's History of Belknap and Merrimack Counties:
GEORGE H. HOYT POST, No. 66, G.A.R., was organized March 14, 1883 by Department Commander John Linnihan, assisted by Assistant Quartermaster General J.H. French, and Officer-of-the-Day Holbrook, all of Pennaciik, and by the George W. Gordon Post of Suncook. The following officers were installed, viz.: Charles W. Leighton, Commander; George S. Sanders, Senior Vice Commander; James W. Marden, Junior Vice-Commander; George H. Haynes, Adjutant; Christopher S. Heath, Quartermaster; Jospeh Roderick, Surgeon; Henry E. Doty, Chaplain; Thomas J. Ames, Outer Guard; George H. Rand, O.M.; Samuel T. Bickford, Quartermaster-Sergeant.
Its first meetings were held in the town hall, but in the summer of 1883, Silver & Robinson enlarged their store building and finished a hall, which is known as Grand Army Hall, and was dedicated by the post September 20, 1883, in which they have since held their meetings.
The post has had fifty-six different members, and lost only one by death, Comrade Elbridge Batchelder.
It has observed Memorial Day, having public services in their post-room, and the memorial services in the cemetery at Gossville, which have been very generally attended by the citizens of the town.
At the March meeting, 1885, the sum of fifty dollars was donated by the town to the post for the expenses of Memorial Day. The services of the Gossville Cornet Band were obtained for this day, and the Rev. Mr. Hillman, of Concord, was the orator.