History of the Epsom Shoe Factory Company
the building and the people associated with it.
One of the most common occupations during the early and mid 1850's was the making of shoes and boots. There was a cobbler's shop on every corner, like antique shops and gas stations are today. Many farmed during the summer and made shoes during the winter.
As the population increased, so did the need for foot wear. As machinery progressed, shoe manufacturing became one of the first industries to lend itself to mass production.
Several shoe factories started in Northwood - two in the narrows and one or two in East Northwood.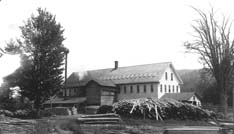 Here are some interesting facts. The Epsom Census of 1850 has 75 people that said they were shoemakers. In 1860 there were only 55 people who said there were shoemakers or cordwainers. Now the 1870 census has only 2 shoemakers by trade, but 30 people said they worked for a shoe factory.
During the mid 1850's some Mass. Businesses sent cut leather to a lot of small family shops to be assembled, sewn and returned to them for so many cents apiece.
Early in 1881 a group of enterprising men of Epsom set out to bring industry to Epsom. This being a shoe factory, which was to become Epsom's first industrial venture. On May 2nd 1881, all interested parties got together and the following was enacted:
Charter of the
EPSOM SHOE FACTORY CO.
   We the undersigned Citizens of Epsom, N.H. agree each with the other as follows:
   We agree to enter into co partnership for the purpose of building a building for the manufacture of shoes. The location of said building to be upon land of William Goss at the water power near Prescott Bridge, so called; also for the purpose of putting in a wheel. Keeping such premises in repair, and doing all other acts and things whatsoever may be necessary to keep such building and property in suitable condition for renting.
   The name of said firm shall be the Epsom Shoe Factory Company and all business of the partnership shall be done under that name.
   The Capital Stock of said firm shall be Three Thousand Dollars and each of the subscribing partners agrees to furnish the amount of said Capital Stock which he places opposite his name on this agreement.
   The profits and losses of said building & the renting of the same shall be shared by the partners in proportion to the amount they have subscribed to the Capital Stock. The arrangements for managing said business shall be arranged by mutual consent, or by vote of the partners, each twenty five dollars worth of Stock entitling the owner to be one vote in the case of any voting = and a majority of the votes cast at any time shall control the action of said partnership.
   Correct books of accounts shall be kept in which shall be entered all money received or paid out and all matter of account relating to the business of said firm, which shall be common and accessible to all the partners. Neither partner shall have power to find the firm as surety in any case, nor their Agent except by the written consent of the other partners.
By a majority vote of the partners this agreement may at any time be changed.
Witness our hands and seals this second day of May 1881.
Name                            Number of shares
                                    at $25 per share
William Goss                             32
Silver & Robinson                       20
Henry F. Sanborn                          6
Horace Bickford                         4
Hiram H. Holmes               2
Andrew S. Evans                 4
Zachariah Leighton                         4
John T. Cotterell               1
Alfred P. Bickford                          4
David M. Philbrick                          4
Morrill D. Bickford                          4
William Tripp                               3
Albion Locke                               4
Lowell Eastman                           1
Hannah P. Steele                 2
Albion H. French                4
George Sanders Jr.                       2
Jefferson A. Edmunds                        2
Benjamin Towle                           4
Jonathan Marden               4
George C. Knowles                          2
David M. Knowles                          2
J.B. Tennant                                4
Daniel G. Chesley                          4
J.C. Hall & Son                            2
C.O. Brown                                 1
                                                126
The rest of the meeting was used to draft the structure of the organization and to draft a set of bylaws. The first meeting was called for May 4th. Just two days later the following votes were passed:
May 4th 1881
            Meeting and organization of the Epsom Shoe Factory Co.
            Meeting called to order by Benjamin Towle.
            A committee of three appointed by the chair to nominate permanent officers of the Company, committee consisting of Andrew S. Evans, Henry F. Sanborn and Jacob F. Robinson, who reported the following:
            For President, Benjamin Towle
            For Five Directors, Morrill D. Bickford, William Goss, Henry F. Sanborn, David M. Philbrick and Andrew J. Silver.
            For Clerk, Jacob F. Robinson
            For Treasurer, Daniel G. Chesley
            Voted that the report of the nominating committee be accepted and the following persons voted in as permanent officers of the Co., President, Benjamin Towle; Directors, Morrill D. Bickford, William Goss, Henry F. Sanborn, David M. Philbrick, Andrew J. Silver.
Clerk, Jacob F. Robinson, Treasurer, Daniel G. Chesley.
            Voted to adopt a set of By Laws. Voted to adjourn subject to the call of the Directors.
-Jacob F. Robinson, Clerk
The land and power sources were purchased from William Goss and Joseph B. Cass. Mr. Cass being in control of water rights at Cass or Bixby's Pond. These agreements are as follows"
Be it Known that I William Goss of Epsom in the county of Merrimac and State of New Hampshire, Agree and bind myself to furnish power for the Epsom Shoe Factory Company to manufacture Shoes in a building erected for that purpose by said company on a water power near Prescott Bridge, so called in said Epsom in event of scarcity of water
                Witness my hand this second day of May 1881.
                                                                William Goss
LEASE OF WATER POWER OF JOSEPH B. CASS
                Know all Men by these Presents
                That I Joseph B. Cass of Epsom in the County of Merrimac and State of New Hampshire for and in consideration of the Annual payment of twenty five dollars to be well and truly paid by the Epsom Shoe Factory Company of Epsom, County and State aforesaid have remised released and forever quitclaimed and by these presents do remise release and forever quitclaim unto the said Epsom Shoe Factory Company or their heirs and assigns for the term of ten years, The right to draw lake and use all the water held in the pond owned by me the said Joseph B. Cass, said Company having  all the right to use said water at any time when necessary for them to do  so and I agree for the above consideration to open and shut the gate as I may be requested by the officers of said Company - that the water may be used or kept back as said Company may need; said Shoe Factory Company agreeing to keep the Dam in good repair so long as the contract shall be in force.
                To have and to hold the said premises with all the privileges and appurtenances there belonging to the said Epsom Shoe Factory, their heirs and assigns for ten years. I do hereby covenant with the said Shoe Factory Company, that I will warrant and defend the said premises to the said Shoe Factory Company, their heirs and assigns against the lawful claims and demands of any person or persons claiming by, from or under me.
                In witness thereof I have hereunto set my hand and seal this fourth day of May in the year of our Lord 1881.
Joseph B.Cass
                Signed sealed and delivered in presence of us
Benjamin Towle
Jacob F. Robinson
                State of New Hampshire Merrimac ss May 4, A.D. 1881
Personally appeared at the above named Joseph B. Cass and acknowledged the foregoing instrument to be his voluntary act and deed, before me
Benjamin Towle
                Justice of the Peace
The Epsom Shoe Factory then negotiated a lease with Hill and Puffer of Lynn, MA, to move into the building upon completion. The agreement was as follows for both parties. The agreement was signed by all parties on May 25, 1881 and read as follows:
AGREEMENT WITH  HILL AND PUFFER
                The Epsom Shoe Factory Company of Epsom in the County of Merrimac and State of New Hampshire by its directors thereto duly authorized and Alvah H. Hill and S.E. Puffer, both of Lynn, Massachusetts, copartners under the firm name of Hill & Puffer mutually agree with each other as follows.
                Said Epsom Shoe Factory in consideration of the agreements of said Hill and Puffer herein contained, agree to erect a building in said Epsom one hundred feet in length by thirty feet in width two stories in height, designed for a shoe Factory, to furnish the same with a suitable water wheel and to have the same ready for occupancy by said Hill and Puffer on or before October 15th 1881, said building to be finished suitably for the carrying on the business aforesaid, to furnish water power for said water wheel not to exceed fifteen horse power, and to make no charge for use of power or building aforesaid for one year next ensuing said October 15th 1881.
                Said Hill and Puffer agree to put into said building on or before November 15th 1881 one set of machinery at least for the manufacture of shoes and to employ sufficient help to operate the same until October 15th 1882 and if they shall elect to occupy said building for a longer time, they agree to take a lease thereof with the power for a term of not less than one year at an annual rent of two hundred dollars per annum payable quarterly.
                Said company further agree if said Hill & Puffer shall elect to occupy said premises after October 15th 1882, to give them a lease of said premises for a term not less than one year or more than five years at the annual rent aforesaid.
                In witness whereof the parties hereto have hereunto set their hands and seals this 25th day of May 1881.
Hill & Puffer
William Goss
M.D. Bickford
Andrew J. Silver                   Directors of the Epsom Shoe Factory Company
David M. Philbrick
Henry F. Sanborn
The building was built by the Epsom Shoe Factory Co., then occupied and stocked with equipment by Hill and Puffer. All went smooth until February of 1882. At that time the Company had an outstanding debt to take care of from the construction of the building. It was finally voted that the indebtedness would be raised by assessing the shares of original stock in the amount per share necessary to retire the debt. This was voted with the provision that any stockholder may relinquish to the Company the amount of his stock and be released from the Company and all interest and liabilities in the same. 108 shares voted in favor and none against.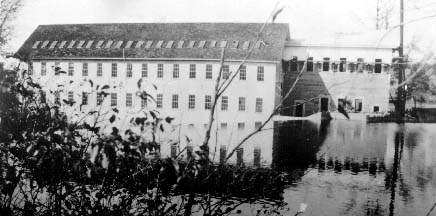 Things went well, officers stayed the same until 1884. At the annual meeting we find that Silver and Robinson's store is now Silver and Hall. J.F. Robinson appears to have left town, sold his share of the store to Charles Sumner Hall and Mr. Hall is now clerk of the Factory Company.  He also bought Mr. Robinson's shares in the Epsom Shoe Factory Co. at less than 1/2 of face value; and his house on the turnpike. He later built a new house beside the old one and lived there until his death.
Later that year as the tax assessment was portioned out to the stockholders, we find that after the paying of the debt in 1882, the list of stockholders has changed. Many are no longer stock holders due to the extra assessment and poor profits. The tax levy was as follows, August of 1884.
Assessment of Aug. 1884 on Epsom Shoe Factory Stock
Wm. Goss                                62 shares               $310.00
Silver & Hall                             20                    paid        100.00
D.M. Philbrick              4                     paid          20.00
Jona. Marden                           4                      paid          20.00
J.L. Swain                                1                                        5.00
Sarah M. Swain               1                                        5.00
Jas. B. Tennant             4                                      20.00
M.D. Bickford                          4                      paid          20.00
Z. Leighton                               4                      paid          20.00
Heirs of L. Eastman                       1                                        5.00
Wm. Tripp                               3                      paid           15.00
D.M. Knowles                         2                                       10.00
Geo. Sanders Jr.                    2                      paid           10.00
J.A. Edmunds                           2                      paid           10.00
Horace Bickford                       4                                      20.00
D.G. Chesley                            4                      paid 9/24 20.00
                                                                        610
In 1885 Hill and Puffer has changed to Puffer and Goss, and a meeting was held to find new tenants for the factory. A committee consisting of Nathan Goss, C.S. Hall and D.G. Chesley was appointed to search for new renters.
In mid '85 and early 1886 they must of found new tenants as we now find Nathan Goss and a new firm of Vinton and Jenkins paying rent on a fairly regular basis. This seemed to run until at least mid 1888 when we lose our ledger that has given us most of our information.
In May of 1887 the Company suffered two losses by the death of its President B.M. Towle and its major stockholder William Goss. Noah Goss then voted the 62 shares held by William Goss and Mr. Zachariah Leighton was chosen President Pro Tem. Mr. E.P. Hill was chosen President in December of 1890 and served at least through 1892 when our ledger book is no longer kept.
The paper trail now jumps to 1909 with a deed from C.S. Hall to Robert Zinn and others for the then abandoned factory, land and water rights. In this span of years we do know some history of the factory from historical articles that have been written.
Now 1909 and the purchase of the factory by Robert Zinn and several members of his family. Also the tragic end to the factory by fire on Oct. 5, 1916.
Mr. Zinn and his brothers were working in Barnstead and had been in this country for just a short time. Robert had always wanted his own factory. The following is from an article by Hattie Zinn Heath, daughter of Robert.
"My father stayed with the Barnstead Artistic Web Co. for two years as their foreman. Two more children were born there to them. Everyone has a dream. My father's dream  was to own a weaving factory of his own. He became acquainted with a family by the name of Hall in Epsom. It was through the generosity of Mr. Sumner Hall, who extended him a loan that he was able to start his own factory; the first Barmer Narrow Fabric Company came to be."
"This old building had been a shoe and box factory, and was no longer in business. It was ideally located near water, affording power for my father's enterprise. This building was on the road a short distance between the Epsom Baptist Church and the little bridge spanning the Little Suncook River. The first Barmer Narrow Fabric Co. was mostly referred to by the town's people as the "silk mill." Here they could purchase lace, edgings, and insertions of all kinds for their handiwork. The narrow edgings were mostly woven to trim corsets and undergarments. The insertions were used on children's dresses."
 This section recalls the tragic end to the Epsom Shoe Factory original building, and  to conclude, here is how the local paper recorded the fire:
SOLE INDUSTRY IS WIPED OUT
Fire destroys Barman Webbing Factory at Gossville
LOSS MAY BE $100,000
Firm Had Orders Ahead
Was Manufacturing Looms
Till Recently Only Made in Germany
Baptist Church on Fire, But Saved
Special to The Union.
GOSSVILLE, Oct. 5, (1916) Fire, which broke out at almost 6 o'clock tonight completely destroyed the factory of the Barman Webbing company, the only industry in the town, entailing a loss estimated at from $75,000 to $100,000. The firm had recently begun the manufacture of looms such as are used in the webbing industry, and the total destruction of drawings and other apparatus figures in the total.
The flames were first discovered issuing from the roof, and the town having no fire apparatus the inhabitants formed a bucket brigade and did what they could to stay the flames. Help was summoned from nearby towns and the departments of Pittsfield and Northwood responded, the auto chemical of the Pittsfield department rendering especially valuable service.
Other Buildings Saved
Nearby buildings, including the Baptist church were saved with difficulty, the church actually catching fire, but the blaze was extinguished. The factory had been recently running at full capacity and had an abundance of orders ahead.
It is hoped that the factory will be rebuilt as about 30 hands were employed and the business was of material assistance to the town. (from the Manchester Union Leader, Oct. 6, 1916)
EPSOM FIRE LOG 1916
July 2, 1916 - the wood barn and outbuildings of James L. Bickford were completely destroyed. The fire was caused by a lightning strike. Value was placed at $4,000.00
Aug. 23, 1916 (Old Home Day) - the Center Hill dwelling and stable at the home of Amanda Hall was completely destroyed from fire caused by lightning. The value was placed at $5,000.
Oct. 5, 1916 - The Manufacturing Company of Barman webbing, makers of Lace and Fancy trimmings, was destroyed by a fire of unknown origin. The business was run by Robert Zinn and Paul Muller, the owner of the property was Charles S. Hall. The damage included $5,000 to the structure, $20,000 in machinery and an additional $11,000 in stock and additional machinery - plus $1500 in tools. The structure was fully insured and the contents partially insured.
The Epsom fire log shows C.S. Hall as the owner of the building and its worth at the time of the fire at $5,000.00 and the insurance paid was for the full amount.  The machinery was valued at $20,000 and the insurance paid $15,000.
The new factory was built where Kitchen Klean now is located.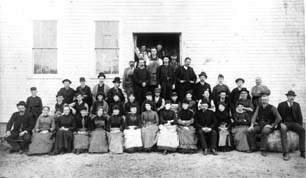 BOX SHOP EMPLOYEES ABT. 1890